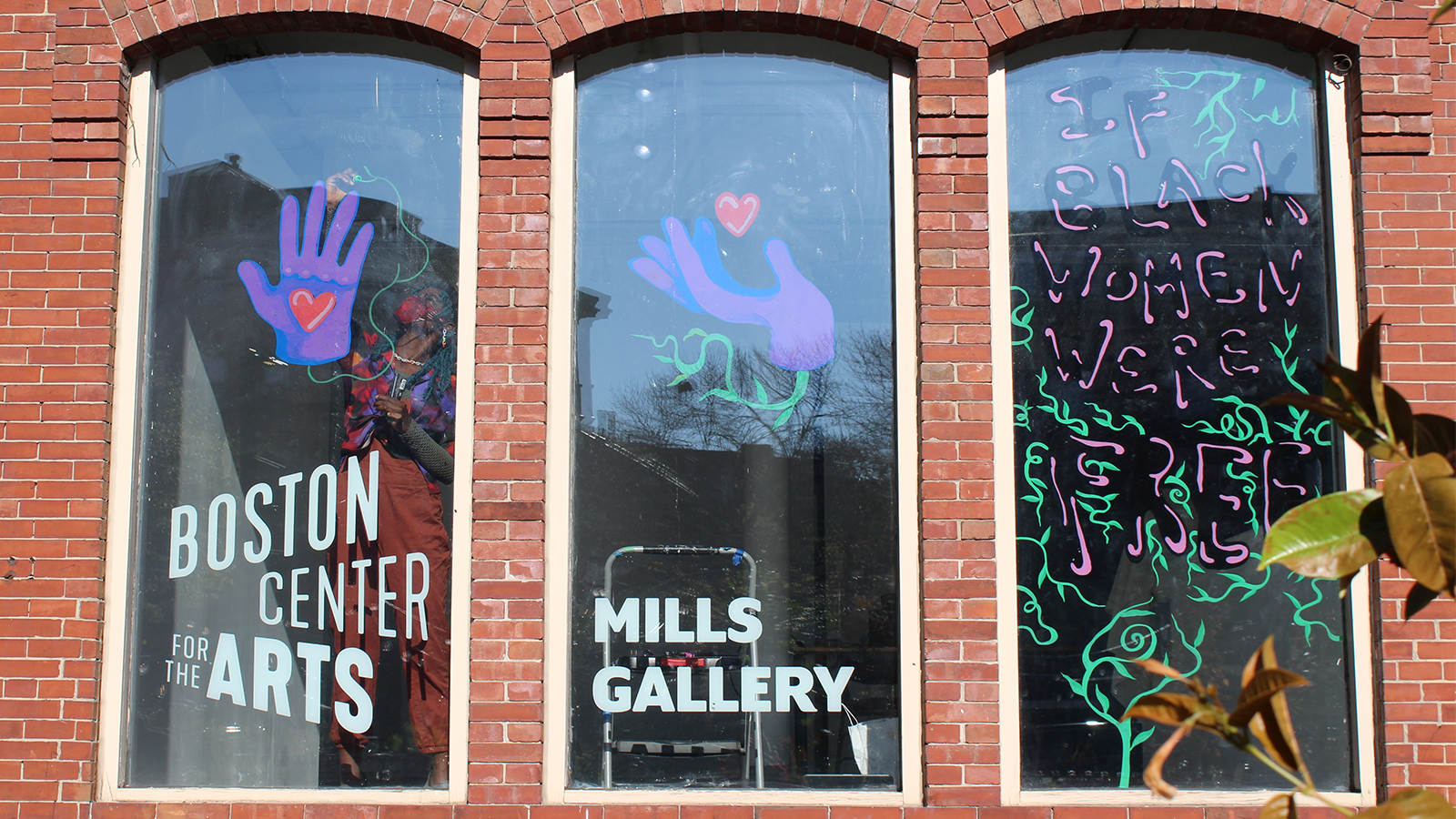 Photo by Tyahra Angus | Protect Your Seedlings by Mithsuca Berry, Mills Gallery, 2020 (installation view)
Exhibitions
Experience
BCA's
Exhibitions
Mills
Gallery
The Mills Gallery is a 1,800-square-foot flexible open-plan layout, offering highly visible exhibitions for contemporary artists and curators in the South End since the mid 1970s. 
The Mills Gallery at Boston Center for the Arts is located at 551 Tremont Street, Boston, MA.
For
over
50
years,
BCA has been a bustling hive of transdisciplinary art in Boston.
We serve our creative community and public audiences in a myriad of ways:
We create programming fusing art and industry, partnering with fashion icons, public artists, publishing giants, and more to offer large-scale events

We provide resources for theatre, dance, music, and performance companies, as well as individual artists, to develop new offerings and scale their practice

We invite contemporary art curators and cultural producers to present exhibitions in our Mills Gallery and public art on our plaza, a centrally-located crossroads for the neighborhood in Boston's South End

We propel cultural series #HellaBlack and the Boston Art Book Fair year after year
OUR EXHIBITION PROGRAM
The gallery currently presents four exhibitions each year; exhibitions are on view for 8-10 weeks each, during slots that roughly coincide with Summer, Fall, Early Year and Spring. Exhibitions are chosen from a combination of solicited and unsolicited proposals, which are reviewed and selected by BCA with the aim of best supporting our mission through presentation of innovative, engaging exhibitions that support working artists and connect art to community through a wide variety of curatorial lenses and viewpoints.
THE INVITED CURATOR MODEL
Please note: Applications for curatorial projects are now closed. Stay tuned for upcoming open calls.
The "Invited Curator" model was developed to encourage a broad range of representation in the gallery, reflecting trans-disciplinary artistic practices and a panoply of perspectives.
Since 2009, this acclaimed exhibition program has showcased projects by over 50 esteemed curators, and shown work by over 500 artists at all stages of their careers. Invited curators are supported by BCA visual arts staff on their exhibition development, promotion, installation and programming, and receive financial support for their intellectual and exhibition production. Selections are made to most strongly align with our mission: supporting working artists, connecting art to community, and fostering intergenerational cross-cultural dialogue that is stimulating, accessible, and relevant.
The gallery currently supports four exhibitions annually in our space; formats range from focused one or two-person exhibitions to expansive group shows, including our signature, open-call Drawing Show (which takes place every other year in the gallery), as well as exhibitions that take a more experimental form.
Exhibition proposals from experienced to emerging curators are actively sought by BCA artistic staff, and are reviewed together with unsolicited proposals on an ongoing basis.