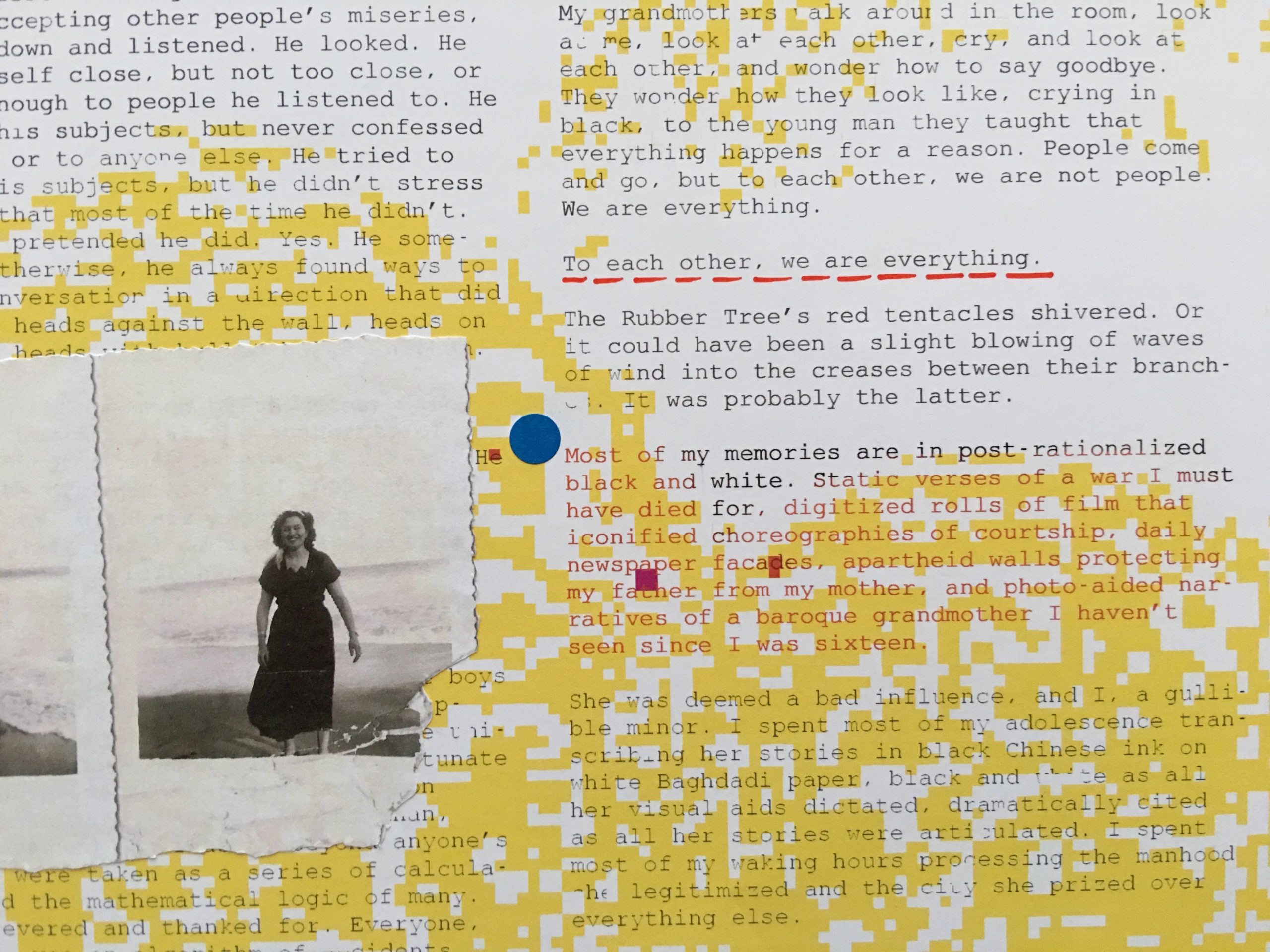 Image: Raafat Majzoub, Detail of the Khan Hotel wallpaper in Brussels.
Raafat Majzoub: GROUNDS | Curated by Artemis Akchoti Shahbazi
Opening Reception and Curatorial Walkthrough*
Friday, January 21 • 6pm—9pm
On view:
January 15—February 20, 2022
Wednesday—Saturday, 1pm—6pm
BCA Mills Gallery, 551 Tremont St., Boston, MA 02116
---
PLEASE NOTE:
BCA follows the City of Boston's requirement that you must show proof of COVID-19 vaccination to enter
From January 15, 2022—February 14, 2022:
People aged 12+ must show proof of at least one dose of vaccine.
February 15, 2022 onward:
People aged 12+ must show proof of full vaccination.
Bring one of these five things with you to show proof of vaccination.
Masks are also required.
---
Since 2012, Raafat Majzoub has been writing "an autobiography of another Arab world" titled The Perfumed Garden. Performative excerpts of this novel have been published internationally through film, video, audio, textual, and public installations. The work produces fictions that compete with the status quo and plants them in public as new realities. For Majzoub, The Perfumed Garden is an act of claiming power. It produces grounds where existing borders and definitions are challenged and fights for space in defiance of an increasingly homogenizing and bordered world.  
Marking a decade of The Perfumed Garden, GROUNDS brings together a selection of excerpts to weave a conversation with visitors about intimacy and collaboration, and to inspire a meditation on collective futures.
The exhibition is an invitation to reconsider truth as multiple. To change. To engage. And to share. It presents grounds for the validity of our collective fictions and creates new grounds for shared realities to come. 
Please touch the work. Add to it.
The exhibition objects will be integrated in Majzoub's ongoing project.
Everything—in your love—becomes easy (video), with AbdulKader Mekkawi, Mahmoud Abu Lokmeh, 'Abu Khodr' & Tarek Majzoub, documents a project that invites a group of people to learn from, and produces a public landscape to host this learning process.  The title of this video is a quote from a Whatsapp voice note (original Arabic: كل شي بحبك بهون ) sent to the artist by 'Abu Khodr', one of the collaborators on the Streetschool (prototype) as part of a negotiation of the fairness of equal compensation to all members of the team.
Raafat Majzoub: GROUNDS is the third exhibition in the 1:1 Curatorial Initiative series presented in the Mills Gallery at Boston Center for the Arts. Each exhibition in this series presents a collaborative project between one curator and one artist, and either introduces a new artist or highlights a new aspect of a more experienced artist.
---
Exhibition Catalogue by Zoë Pulley
---
Curatorial Walkthrough
January 21, 2022
---
The Sounds of GROUNDS
---
Read the Press Release.
---
* As an additional precaution, we will not be serving any refreshments at this opening reception. Please think about enjoying a visit to one of our fine neighboring establishments Banyan or The Beehive before or after your Mills gallery visit.