Karmimadeebora McMillan, "Ms. Merri Mack" (installation detail)
Project
Room
No.
1:
Karmimadeebora
McMillan
Public Reception
Friday, August 12 | 6–9pm
During the public reception for Project Room No. 1: Karmimadeebora McMillan, visitors will also be able to see M'Kenzy Cannon: PLEASE LET ME IN in the main gallery space. And as an additional treat, the BCA Artist Studios Building will be open from 5–8:30pm. If you get to our campus early or feel like stepping outside during the reception, you're welcome to explore the four floors next door and visit some BCA studio residents and their studios. Please RSVP. 
On view
August 6—September 10 ● Wednesday—Saturday | 1–6pm
BCA Mills Gallery, 551 Tremont St., Boston, MA 02116
This exhibition introduces the Mills Gallery Project Room Exhibition Series. BCA Studio Resident Karmimadeebora McMillan will be the first artist in residence to exhibit in the Project Room.
The iconic Mills Gallery at Boston Center for the Arts launches a new exhibition series featuring work by BCA Studio Residency Artists in the gallery's Project Room space, coinciding with more expansive exhibitions in the main gallery space. During the same time period as any 1:1 Curatorial Initiative Series exhibit you can also experience the work of a BCA Studio Resident in the Project Room at the Mills Gallery.
The protagonist in artist Karmimadeebora McMillan's exhibition is Ms. Merri Mack, whose name comes from a character in a nursery rhyme sung by enslaved children. Through wonder, play, and fantasy, McMillan depicts her as living her best life. In the artist's brightly colored work on wood and canvas, the figure becomes a catalyst for change, a reminder to Black Women and young girls that things can go from pain to power.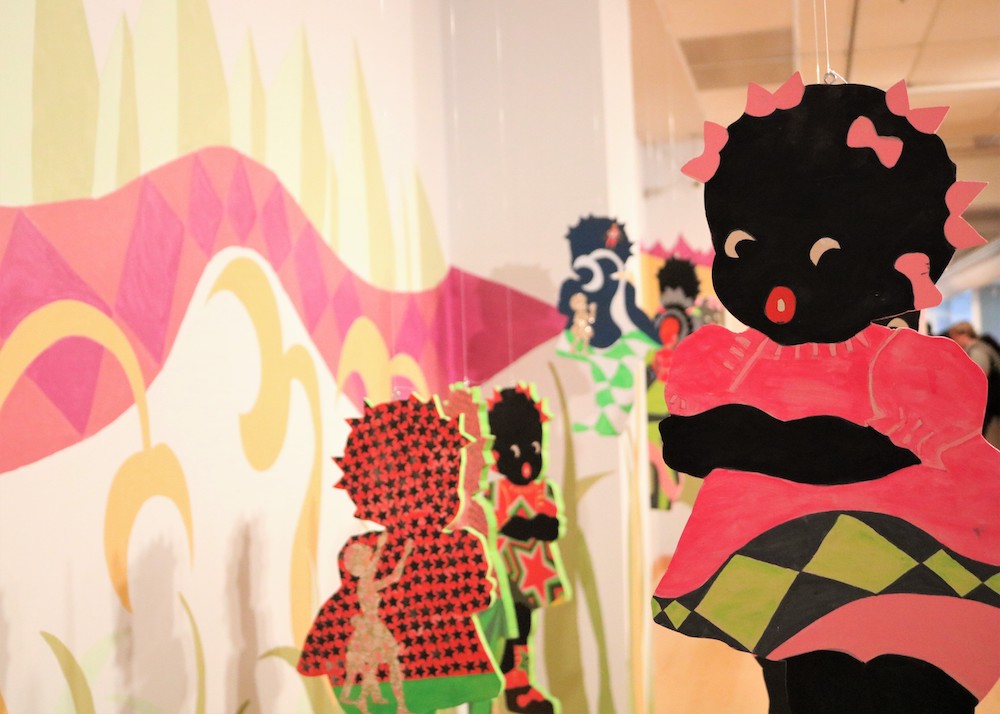 MsMerriMack closeup | Karmimadeebora McMillan
Black Austin Pink and Green | Karmimadeebora-McMillan
The Arrival | Acrylic and collage on canvas | Karmimadeebora McMillan
Tosh | "Blessed Black," from "Doll Studies" series | Karmimadeebora-McMillan
Installation View at Snapshot Pop-up Exhibition | Karmimadeebora-McMillan
About the Artist
Karmimadeebora McMillan
Karmimadeebora McMillan was born in Fayetteville, North Carolina and is based in Cambridge, MA. She has a MFA (2013) and Post Baccalaureate certificate (2011) from The School of the Museum of Arts at Tufts, Boston. McMillan's paintings are influenced by her southern childhood through brightly colored fragmented quilted landscapes combined with characters from racist's propaganda and black dolls found in southern flea markets.
After graduate school McMillan worked for the well-known street artist Swoon for five years as her business manager and helped start her non-profit organization Heliotrope Foundation.
McMillan has also performed with her mentor Magdalena Campos-Pons at the Guggenheim Museum in New York, Queens Museum in New York, and Havana , Cuba Biennale 15. Karmimadeebora is currently the Director of the Post Baccalaureate Program and part time lecturer at SMFA at Tufts, Boston.
Karmimadeebora has been a BCA Studio Resident since 2021.
Watch Karmimadeebora McMillan talk about her process along with BCA Studio Resident Joanna Tam in this episode of 'Hello My Name Is…'