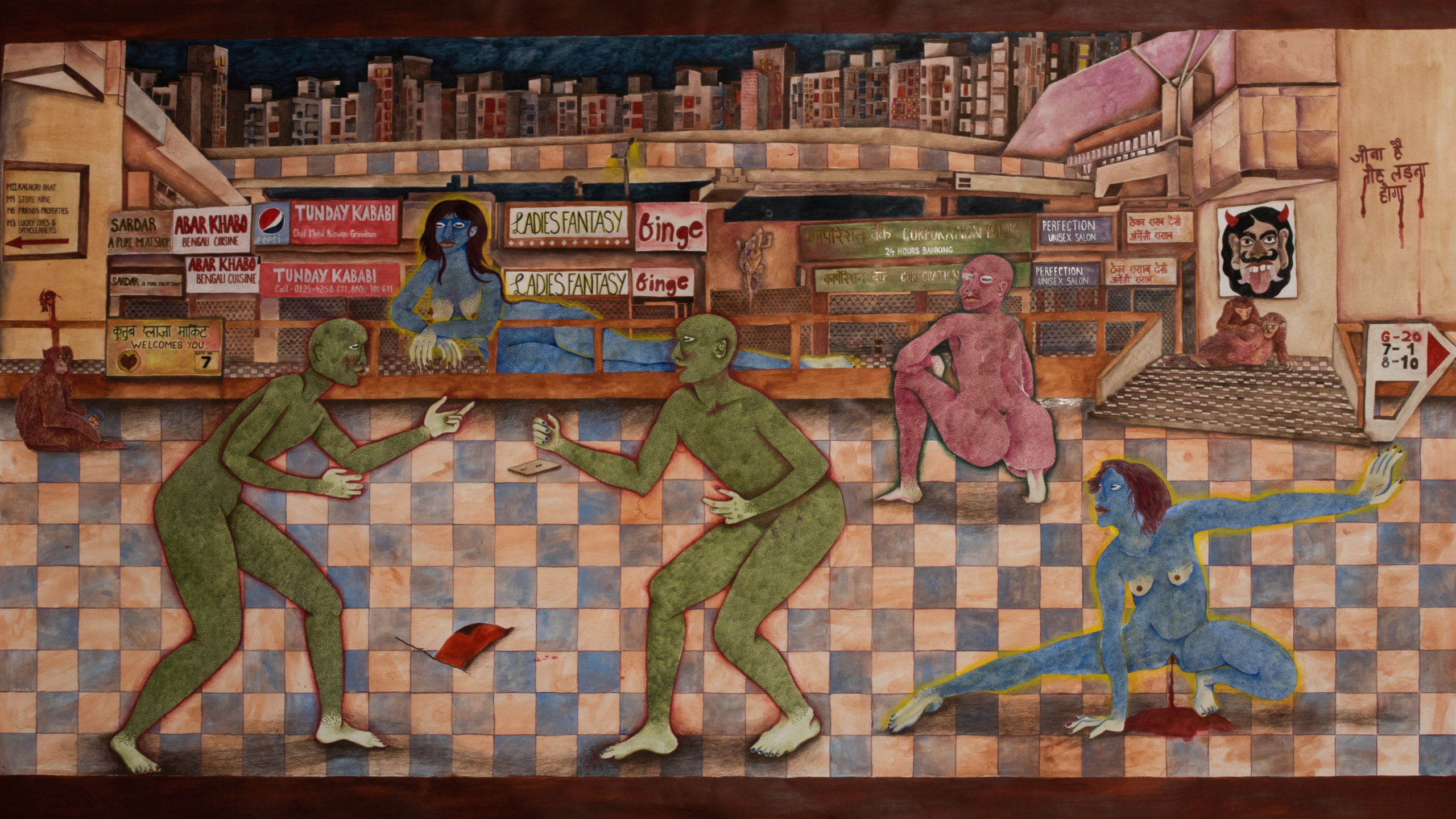 Anukriti. "How to Steal Back Your Own City." 2022. Watercolor on paper.
Anukriti:
A
Temple
for
Timeless Beasts
On view
October 8—November 12 ● Wednesday—Saturday | 1–6pm
BCA Mills Gallery, 551 Tremont St., Boston, MA 02116
A TEMPLE FOR TIMELESS BEASTS is a sacred site for all things sacrilegious. From New Delhi to Boston, transdisciplinary artist Anukriti (they/them) presents their first-ever large-scale solo exhibition: a temple for the unconventional and queer to be revered, where Hinduism is reimagined and new gods emerge. The culmination of an artistic commitment to elevate non-conforming experiences and an ongoing embodiment of queer spirituality, the works within this temple subvert the tools of religion, inviting visitors to consider new creation myths rooted in inclusion and revolution.
Anukriti's intricate mark-making and world-building is a meditative reinvention of prayer — an offering of cathartic devotion to the queer, hairy, curvy, kinky, Black and brown; if godhood is ephemeral and timeless, the creations in this temple claim the same for those traits. Communion is encouraged in the gallery's reading nook, where selected texts and curated publications collectively & collaboratively expand upon the perspectives Anukriti elevates.
Anukriti: A TEMPLE FOR TIMELESS BEASTS is the fifth exhibition in the 1:1 Exhibition Series presented in the Mills Gallery at Boston Center for the Arts. Each exhibition in this series presents a collaborative project between one curator and one artist, and either introduces a new artist or highlights a new aspect of a more experienced artist.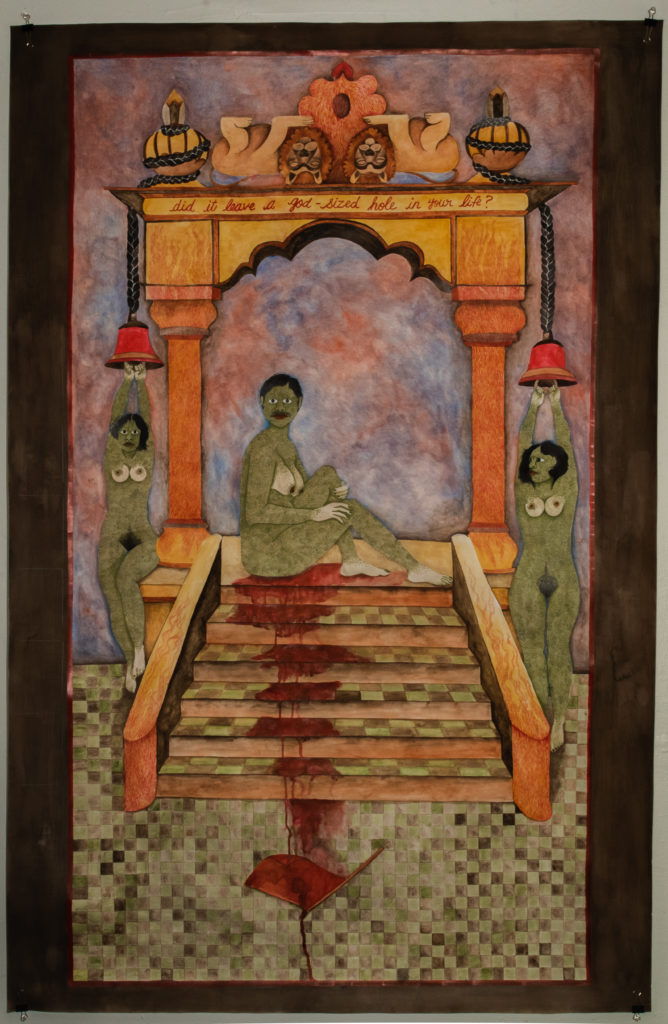 Anukriti. "In place of monuments." 2022. Watercolor on paper.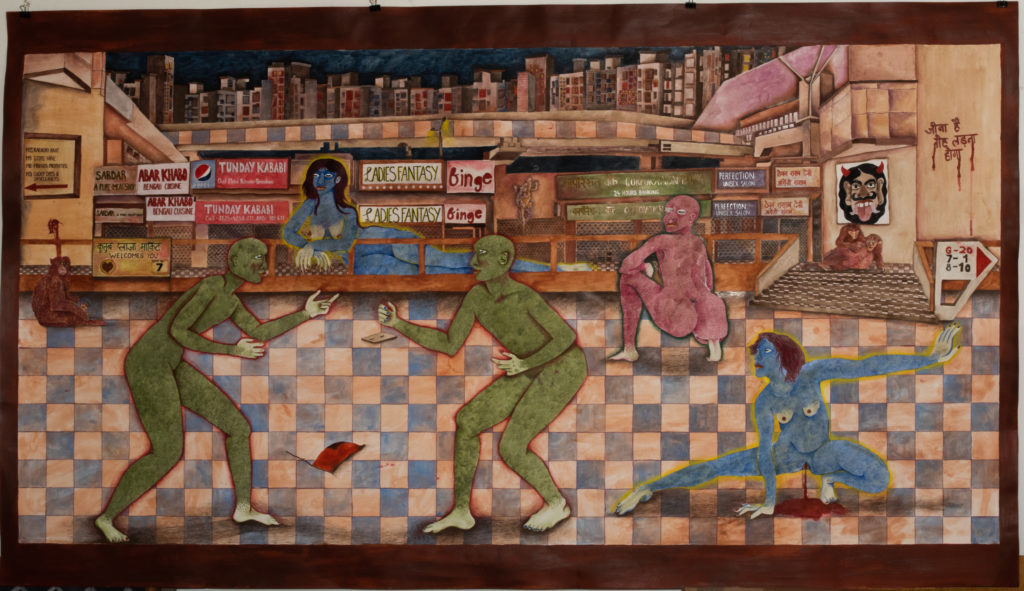 Anukriti. "How to Steal Back Your Own City." 2022. Watercolor on paper.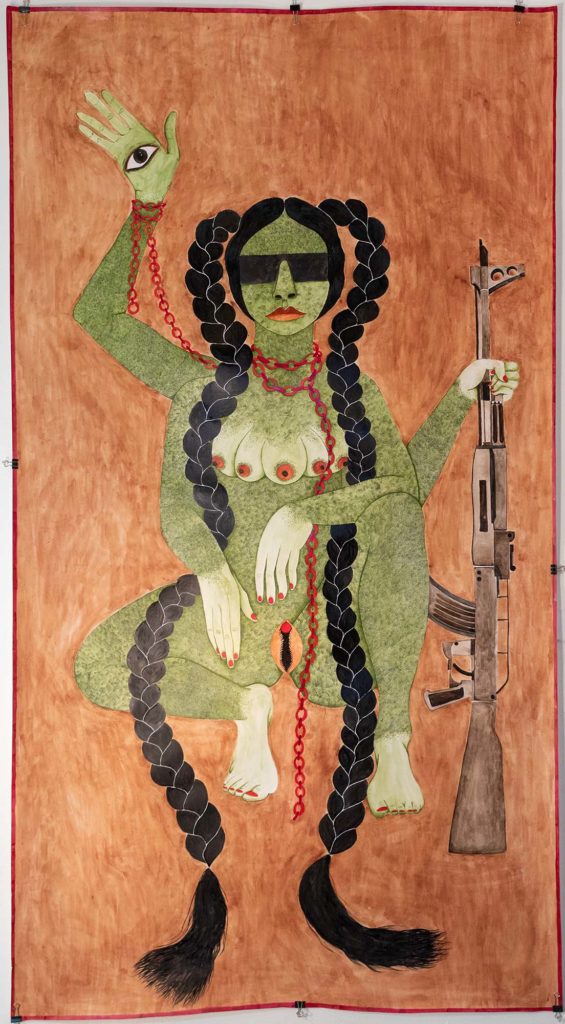 Anukriti. "Mother Militant. 2021." Watercolor and tea on paper.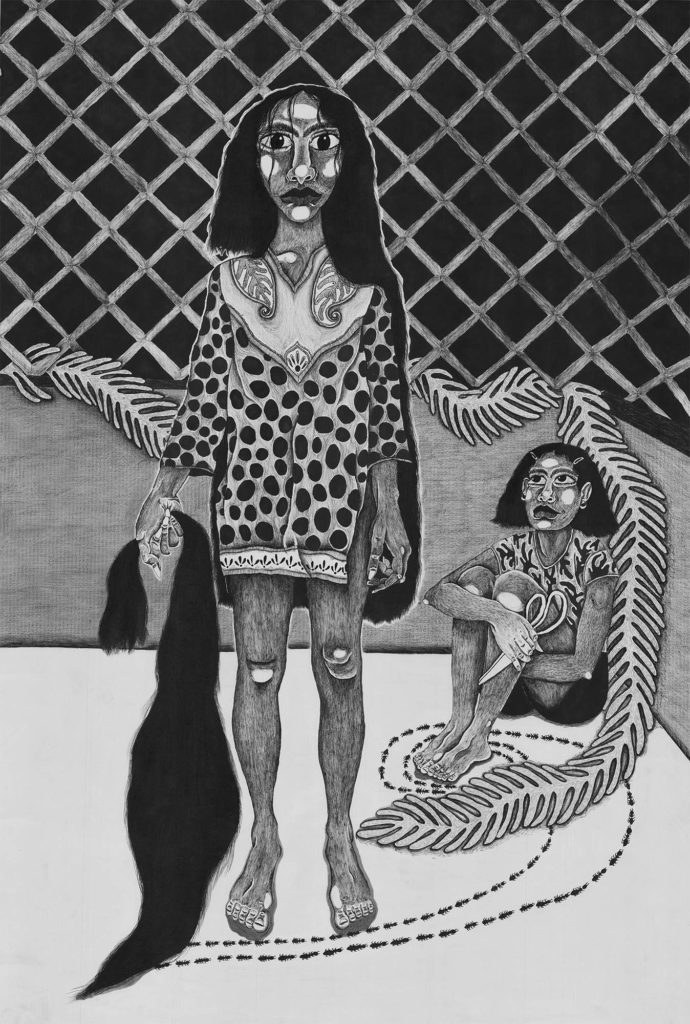 Anukriti. "Wanton Woman." 2020. Pen on paper.

Anukriti. "Godhood." 2020. Acrylic on paper.
Opening Reception & Curatorial Walkthrough
Friday, October 7 | 6–9pm
During the opening reception for A TEMPLE FOR TIMELESS BEASTS, visitors will also be able to visit Project Room No. 2: Azadeh Tajpour, as part of the new Mills Gallery Project Room Exhibition Series. In addition, the BCA Artist Studios Building will be open from 5–8:30pm. If you get to our campus an hour early or feel like stepping outside during the reception, you're welcome to explore the four floors next door and visit some BCA studio residents and their studios. Please RSVP.
Guided Walkthrough with Artist Anukriti and Curator Jasper A. Sanchez
Saturday, October 22nd | 2–3pm
Thursday, October 27th | 5–6pm
Explore our newest 1:1 Exhibition, guided by the artist and curator! Dive into A Temple for Timeless Beasts, a temple-exhibition for the unconventional and queer to be revered. Broaden your perspectives, have a conversation, ask questions, and maybe even be asked questions yourself. Please RSVP. Spots are Limited!
Open Mic: Prayers for Queer Salvation
Saturday, November 5 | 7–9pm
Join us at a poetry night & open mic for words celebrating the collective vast and ever expanding experience of queerness. 
This event in the Mills Gallery will close the first night of the Boston Art Book Fair, and will be a space of communion for writers, poets, and speakers to share their reflections on the topic of queer spirituality. Perspectives from all cultural and religious backgrounds are welcomed. 
The first half of the program will feature invited writers from submissions for The Book of Being, a queer prayer book curated by Anukriti and Jasper A. Sanchez for the BCA 1:1 exhibition A Temple for Timeless Beasts on view in the Mills Gallery from October 8th — November 12th, 2022. This will be followed by an open mic hour from 8–9PM where the public is invited to share their own prayers for queer salvation. 
Special guest Poet and Artist, Julissa Emile will be leading the program as Master of Ceremonies.
Timed slots for sign-up will be open to all on a first-come and in-person basis at the Mills Gallery from 6:30–8PM on Saturday, November 5th or until slots run out. Performances will run from 7–9 PM. 
About the Master of Ceremonies: Julissa Emile (they/them)
Julissa Emile (they/them) is a twenty-three year old transplant and chaos baby from the United States Virgin Islands. Their writing focuses on the intersections of blackness, queerness, and "if that were a garden, what kind of magic would grow from it." They served as the FEMS slammaster from 2018-2020, and have been featured in Button Poetry, Teen Vogue, BET, and Buzzfeed.
Instagram: @motherjuniper