Photo Credit: Olivia Moon Photography
Laura
Sánchez's
AFTER
DARK
Virtual Showing
Boston Dancemakers Residency Showcase
Laura Sánchez 
AFTER DARK is a multimodal production that combines flamenco with contemporary dance, poetry, spoken word, visual and creative expression to create awareness about motherhood and mental health during Covid-19. 
Showcased in the Mills Gallery at BCA, this ongoing experimental sharing weaves together the chapters of this long-term project. Featuring award-winning film AFTER DARK based on Laura's experiences as an artist, woman, trauma survivor, and mother of her first child, who found hope in the arts during pandemic quarantine. Then premiering the newest chapter focused on the lights and shadows of motherhood, while sharing glimpses into Laura's experience becoming a mother to her second child, who suffered a severe brain injury at birth. 
While we all may be experiencing similar trauma, it is affecting each of us differently in unimaginable ways, and this production aims to provide a healing opportunity for the Boston Community. Throughout this immersive work, audience members are invited to connect within a chorus of motherhood sparking a sense of support, embrace, and empowerment.
Virtual Showing
Tickets | Free
Monday, June 27 – July 19 | Register to Watch Online Here
After registering, you will receive a link & password. The film will be available until July 11 in both English & Spanish.
Collaborative Team
Director & Choreographer | Laura Sanchez
Dancers | Core Ensemble:Olga Barreiro, Ann-Marie Ciaraldi, Ashley Eng, Alissa Feller, Olivia Hatten, Hollie Jacobs, Laura Sanchez, Keegan Scesny, Marina Straus, Liz Westbrook
Dramaturg | Belén Maya
Musicians | Bárbara Martinez 
Costumes | Sally Lesser
Installation Artist| Mary Hall
Technical Director & Light Designer | Paul Marr  
Videographer |Lindsay Lapoint
BCA Director of Dance & Interdisciplinary Arts | Andrea Blesso
BDA Executive Director | Debra Cash
Dive into AFTER DARK
Behind the Process
Laura Sánchez, Andrea Blesso, and dancers discuss AFTER DARK in our series 'Hello My Name Is…'
About the Team
Laura Sánchez – Director & Choreographer
Laura Sánchez is an award-winning flamenco artist, creator, choreographer and educator originally from Cádiz, Spain. She began her flamenco education as a child and received professional training from the Dance Conservatory of Madrid. Laura holds a Professional Certificate in Expressive Arts Therapies from Lesley University where she developed an emerging therapeutic dance practice, Expressive Flamenco©. She facilitates workshops, presents this work internationally and continues to serve annually as Guest Professor for the Lesley University Expressive Therapies Master's Program. Her most recent research work was published at the Journal of the American Dance Therapy Association in 2021.
Laura actively performs as soloist in flamenco venues in the Eastern U.S., and placed 3rd at the 2016 Flamenco Certamen USA, an international competition that takes place in NYC annually. She works as independent choreographer for organizations including Boston College of Fine Arts, Massachusetts Government, Bridgewater University, and Kingston Theater. Laura works as independent producer and has presented several flamenco shows over the past few years in Massachusetts. In her last production Flamenco at Starlight she brought the flamenco community back together to perform for the first time in Cambridge since Covid-19.
During the pandemic she created an award-winning short film called AFTER DARK to tell the resilience stories of a community affected by the Covid-19 global pandemic. She has been granted with the prestigious Live Arts Boston grant from the Boston Foundation in 2021 and was honored to be a member of Flamenco Vivo Carlota Santana Professional Consorcio Flamenco, a group dedicated to growing flamenco on the national stage in 2020.
Dancers | Core Ensemble
Ann-Marie Ciaraldi, MFA, she/her A true empath since birth, Ann-Marie's mission as a dancer, dance educator, and feminist-centric interdisciplinary choreographer is to explore the past to help heal the future, offering education, understanding, and empathy to the audience member.
Ann-Marie is honored to have performed in the reconstructed works of Doris Humphrey. Her choreography has premiered at venues such as Windhover, the North Shore Dance Alliance, Northeast Youth Ballet, Endicott College, and MAGMA. In addition, she has been a recipient of awards from NEFA, the Gloucester Cultural Council, and Awesome Gloucester. Recently, Ann-Marie's work was commissioned at the Salem Witch Museum's online exhibit.
Currently, Ann-Marie is an adjunct professor at Salem State College and on faculty at the BoSoma School of Dance. She frequently teaches masterclasses in the Humphrey Technique and is a certified facilitator with the Dance Education Laboratory based in NYC and Jacob's Pillow.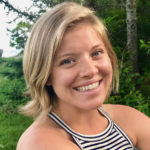 Alissa Feller is a circus artist and acrobatics coach in Boston with a love for all movement and expressive art.  She focuses primarily on modern dance, dance trapeze, and hand balancing.  Most importantly she is a mother of two amazing children, Emery and Maika, who fill her heart and inspire her work.  She coaches at commonwealth circus center and for Circus Up. 
Olivia Hatten is a performing artist, dancer, model, actress, meditation guide and yoga instructor born, raised, and practicing on Nipmuc, Pocumtuc, Massachusett, Pawtucket land. Trained in traditional indigenous Afro-Brazilian, Ayisyen, and Guinean rhythms and movements by Kera Washington, Isaura Oliveira, Peniel Guerrier, and Toussaint the Liberator, has been trained in indigenous, intuition and environment led movement on Apache and Tewa land by Dancing Earth's Rulan Tangen, gratefully. I am grateful to my nonhuman teachers, the Wind, the Water, the Sun, the Moon, our Mother Earth. Many more with inaudible names. My dance and embodiment work is a testimony of my ancestors prayers and preparation, as it is my own prayer and preparation for my descendants to continue this work. Through this work I also reckon and encourage others to reckon with the trauma, self and other inflicted, that has manifested in and around us. I am offering joy, surprise, knowledge, unfamiliar comfort and love. Receiving acceptance, wisdom, power, nourishment, and love. Thank you. Let's Go Together.
Keegan Scesny is a dancer who currently teaches at Dawn's School of Dance and is a company member with Bosoma Dance company. She has trained in the past with Aurora Borealis Dance Company. She enjoys all styles of dance but her favorites are Contemporary,  Modern, and improvisation. Many teachers such as Cat Cogliandro, Hayden J Frederick, Emily Greenwell, Jaclyn Waguespack, and Joy Davis have helped shape her into the artist she is today. Her passion for expression, creativity, and allowing herself to be vulnerable has paved the way for a life involved in dance and the performing arts. 
Marina Strauss is an Argentine artist and mental health counselor and expressive arts therapist. She works integrating the arts in her practice and conducting arts and movement workshops in the community to spread the joy and liveliness that comes with the arts. She is a mother of two and enjoys the outdoors, dancing, cooking and art making. She is particularly interested in how the arts can help build and enrich a community. 
Olga Barreiro  trained for more than 10 years at Escuela Carmen Senra, a renowned center for contemporary and modern dance in Madrid (Spain). She studied Graham technique with Christine Tanguay, Limon technique with Angela Rodriguez, modern jazz with Rebeca Falcon and free style with Chevy Muraday, Joaquin Lopez and Nicolas Rambaud. She has participated in numerous productions with M&J danza (choreographer: Nicolas Rambaud), and several dance competitions and festivals such as Festival de la Habana Vieja (Cuba). Although she moved her steps towards a very different dance discipline, flamenco, she is thrilled to return to her dance origins in this production and participate in such a moving and psycho-emotional experience.
Hoang-Anh (Ashley) Eng started her dance training at Bonnie Siscoe's School of Dance in Houston, TX at the age of 3. In 2011, she entered into the pre-professional company at Amy Blake's Academy of dance and trained in ballet, modern, jazz, contemporary, musical theatre, and other various genres of dance. In 2014, Ashley began attending the High School for the Performing and Visual Arts (HSPVA) and was a company member of the Houston Repertory Dance Ensemble (HRDE). At HSPVA, Ashley had the opportunity to train in a high focus curriculum that included techniques of ballet, modern, tap, improvisation, composition, musical theatre, jazz, and modern partnering. At HSPVA, she learned repertoire from choreographers like Christian Warner, Gregory Dolbashian, and Michael Foley. Zachary Tang, Jeremy Arnold, Allie Kronick, and Angelica Stiskin were a few of the esteemed choreographers working with HRDE. She attended summer sessions at the Alvin Ailey School of Dance, Northwest Dance Project, and Hubbard Street Dance Chicago. Since her exposure to modern dance, Ashley has started to explore the integration of floor-bounded work with contemporary focused movements into her dance vocabulary. She recently graduated from Boston Conservatory at Berklee with a BFA in Contemporary Dance, emphasis in composition and minor in Creative Entrepreneurship; and has performed works by Kate Weare, Maleek Washington, Ruka Hatua-Saar White, and William Issac. She has participated, choreographed, and collaborated in various projects and short films with local Boston artists, rising musicians for their music videos, and fellow Berklee and Conservatory students. Ashley is an administrative assistant for Midday Movement Series, a Boston based non-profit dance organization,  an instructor for Preschool Moves of the Arts, and Junior Company Rehearsal Director for Jo-Me. She is excited to continue performing concert works and exploring unfamiliar movement styles to enhance and enrich into her experience with the art of dance. 
Hollie Jacobs I've been a dancer since I was a little person; thank you, mom. I studied dance and theater at Emerson College. I was a theater teacher for 5 years; I was interested in the emotional aspect. I attended Lesley University for Expressive Arts Therapies and Mental Health Counseling. I'm a therapist who incorporates arts in session. Dance is my therapy.
Julia Schechter Originally trained as a ballet dancer and competitive figure skater, Julia Schechter brings an eclectic style to her dancing. Her training and performance experience includes competitive Latin ballroom, modern, contemporary, salsa, bachata, and Brazilian zouk. She holds a Master's degree from Boston College in Clinical Social Work and works as a therapist focused on supporting survivors of trauma and domestic violence. She is overjoyed to be dancing in After Dark and feels deeply honored to be part of such an important piece. "To me, this piece is about much more than the dancing; collectively holding space to explore pain, grief, survival, and resiliency has the power to be deeply transformative. I hope you'll join us on this journey." 
Liz Westbrook is a dancer and choreographer based in Boston. She is currently a Fellow with VLA Dance and on Faculty with Urbanity Dance. She has been pursuing her BFA in Dance from the University of the Arts in Philadelphia. She has previously worked/performed with Mark Morris Dance Group, Seacoast Repertory Theatre, Grant Jacoby and Dancers, and Bill T. Jones. She is honored to be in this beautiful work by Laura, and to be moving alongside women whose strength, light, and artistry mold this piece in the most authentic way.
BELÉN MAYA – Dramaturg and Translator
Belén Maya is the main representative of "modern flamenco." She's featured in Saura's "Flamenco" film and is guest artist in the companies of Israel Galvan, with Rocio Molina and National Sweden Theater Ricksteatern among others. In her own company she invites groundbreaking artists as Olga Pericet, Manuel Liñan or Niño de Elche, receiving the Best Show Award in Festival Flamenco de Jerez. As director, dancer, choreographer and communicator she leads therapeutic workshops based in flamenco as a source of power and is an experienced lecturer and researcher in fields as flamenco gender, identity and tradition: "Celebrating Flamenco´s Tangled Roots, The Body Questions" (Cambridge Scholars Publishing 2022), "Creative process and composition in Contemporary Flamenco": Duke University (Durham, EEUU), Drexel University (Filadelfia EEUU, Los Angeles EEUU), "Quiero ser humana" Centro García Lorca (Granada),"La Muñeca Subversiva" El Dorado (Barcelona), Universidad de Cádiz, "Bailar Después" Máster de flamenco de la Universidad Pablo de Olavide de Sevilla. "Ni Tu Ni Yo", Jerez 2020 "Y después?", Festival Grec de Barcelona 2020 "El Movimiento" Surge Madrid 2021 "Ex", Teatro central Sevilla 2022.
Barbara Martinez – Musician
Barbara Martinez grew up performing in New York City. Originally from Venezuela, she comes from a lineage of iconic Argentine tango singers. For more than 20 years she has worked as a dancer and singer with numerous flamenco dance companies and world music ensembles, and danced with the Metropolitan Opera, where she also sang as a child. In 2010, Barbara performed at Carnegie Hall/Weill in a solo concert to a sold out house. She has since appeared in the documentary "Sobre Las Olas – A Story of Flamenco in the U.S." by Carolina Loyola-Garcia and the photography exhibit entitled "100 Years of Flamenco in New York" at the NY Performing Arts Library. She graduated from Brown University (BA 1998) and is pursuing graduate studies at Berklee College of Music. Barbara teaches music at the Ethical Culture Fieldston School.
Sally Lesser – Costumes
Sally Lesser is an award winning designer of theater, television and dance. Based in New York, her work has been seen in regional theaters across the US and internationally. Notable projects include design for the original production of Little Shop of Horrors; 20 years as Associate Designer  on the soap opera,One Life to Live (3 Emmy Awards); Co-designer of Josephine the Short-Necked Giraffe for Mister Roger's Neighborhood, and design for over 70 plays directed by her late husband, director George Ferencz. Sally is also a skilled dressmaker and  makes flamenco costumes in her Brooklyn studio.(sallylesserdesigns.com).
Mary Hale – Installation Artist
Mary Hale is the founder of ROYHALE design and Associate Teaching Professor at Northeastern University, is an artist, architect, educator, researcher and maker creating ephemeral spatial experiences, animated and brought to life through sound, projection and movement.
Mary collaborates with choreographers, video artists and sound artists to design architectural spaces for immersive performances. Recent work includes inflatable performance environments for "Dance Like No One is Whale Watching" and "Shimmer"– multimedia dance, video, sound and architectural installations; and "The Parksville Murders" – a VR horror opera.
Recent research includes co-curating The New Inflatable Moment exhibition at BSA|Space.  In 2020, Mary began collaborating with students to research and create biodegradable materials that could replace the persistent materials in her practice.  This work has been presented at the ACSA Teachers Conference, the RAIC CCUSA Academic Summit on Architecture, and will be published through the 2022 Lisbon Architecture Triennale.
Mary's work has been recognized through books and international art, design and technology publications like Metropolis, Clam, and the MIT Technology Review. Mary received the AIA Associates Award in 2015 for exemplary design advocacy in the public sphere. Mary holds a Masters of Architecture from MIT, and a Bachelor of Arts in Urban Studies from Brown University.
Lindsay Caddle LaPointe – Videographer
Lindsay Caddle LaPointe is a dancer, educator, choreographer, videographer and an award-winning video editor. She received her bachelor of arts degree in Dance/Performance from Roger Williams University and her master's degree in dance and technology from The Ohio State University's department of dance.
In 2010 she started her own video production company, Linden Tree Productions [LTP], that provides video support to dancers and artists. Some of the organizations she has worked with include: Peter DiMuro|Public Displays of Motion, The Davis Sisters, Jean Appolon Expressions, KAIROS Dance Theater, Kieran Jordan, The Wondertwins, and The Landmarks Orchestra. She currently teaches dance and film classes at Dean College and is the Director of Video Archives for the Bates Dance Festival during the summers.